03/13/2017 - 04/29/2017, 12:00 am
Woodbridge Town Library
10 Newton Road
Woodbridge, Connecticut 06525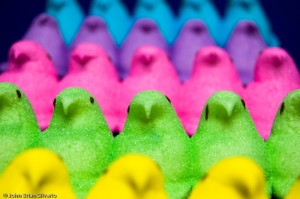 Join us for the Fourth Annual Peeps at the Library Contest at the Woodbridge Town Library!
This contest is open to all ages. Teams are welcome to enter!
Contest Rules
To sign up, please submit your name and phone number at the Information Desk.
We will provide each person or group who enters with one pack of Peeps (each pack has 5 individual).
Create a diorama based on a book, literary character, or movie. Make the diorama using a standard shoebox sized box. You may add your own decorations and props.
All characters must be portrayed by Peeps. You may use more than the ones provided.
Contest is open to all ages. There are separate prize categories for children/families, teens, and adults. Teams may include up to four members.
Please do not use any other food (other than Peeps) in your diorama.
One entry per person/team, please.
Please fill out the entry form below and submit it with your diorama.
Registration begins on Monday, March 13 and ends Saturday, April 1. You can sign up and pick up your package of Peeps during this time when the library is open at the Information Desk.
Drop off your completed diorama during library hours between Monday, April 3 and Saturday, April 8.
It will be put on display until Saturday, April 29 with all of the entries so patrons can view them. Patrons can vote on their favorites until Friday, April 21. Winners announced Monday, April 24. Winners will receive a certificate, and be pictured on our website and local news. Entries must be picked up by Saturday, May 6 at 5 PM, or they will be discarded.
Online bookings are not available for this event.