Click, Clack, Moo: Cows That Type by Doreen Cronin
Pictures by Betsy Lewin
Enjoy this adorable, Caldecott-award winning story together as a family, engage in a book discussion, then make a cute paper plate cow! If you don't have the book at home, you can read it via hoopla!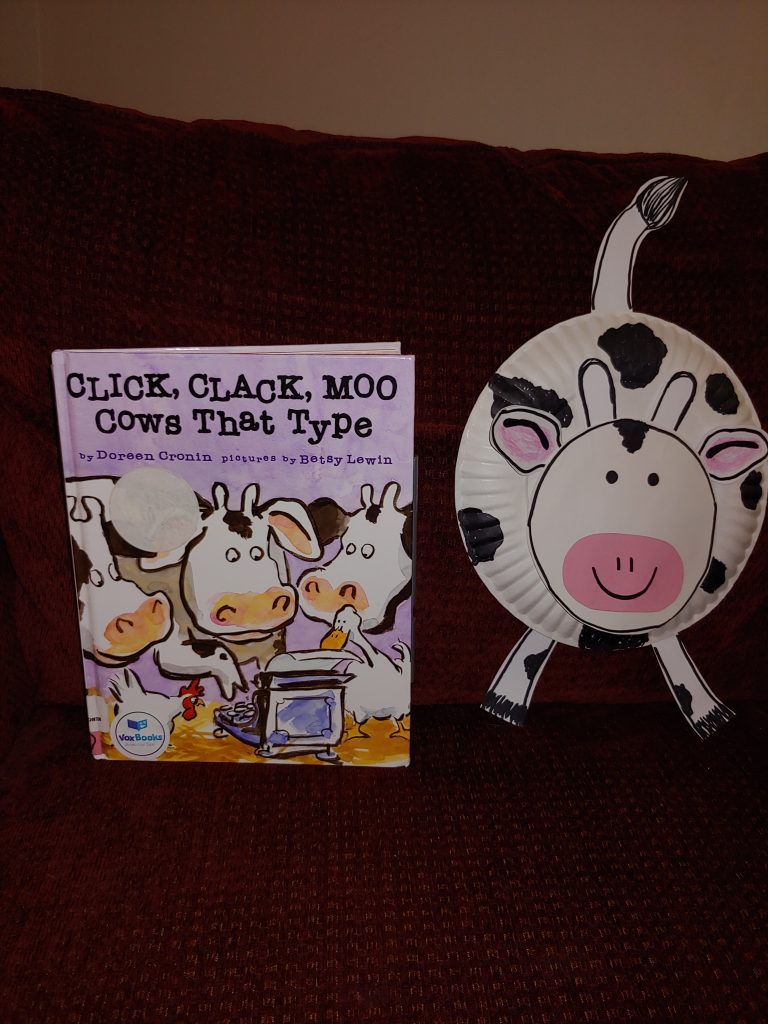 Story Questions:
1. What is the farmers name?
2. Why did the cows leave a note for Farmer Brown?
3. Did they write it with a pen or pencil, or use something else?
4. What is a typewriter? Do people still use them?
5. What deal was struck between the Cows, Hens, and Farmer Brown?
6. What did the Ducks want in the end?
Paper Plate Cow
Materials:
2 thin white paper plates
White paper (printer paper is fine)
Pink crayon or marker
Black marker
Scissors
Glue stick or white glue
Cow parts template (click here)

Instructions:
Print template and cut out all of the cow parts.
Cut the inner circle out of one of the paper plates.
Glue ears, horns, nose onto small plate (face), then glue the face to other plate (body).
Glue feet, tail onto back of large plate so those parts are showing in front.
Use black and pink markers to add details such as eyes, smile, spots, and outlines.