Pete the Cat and His Four Groovy Buttons
written and illustrated by James Dean
Enjoy this modern classic, or any Pete the Cat book, and make a colorful and fun tube craft! If you don't have these books at home, you can read or listen to one via hoopla or OverDrive.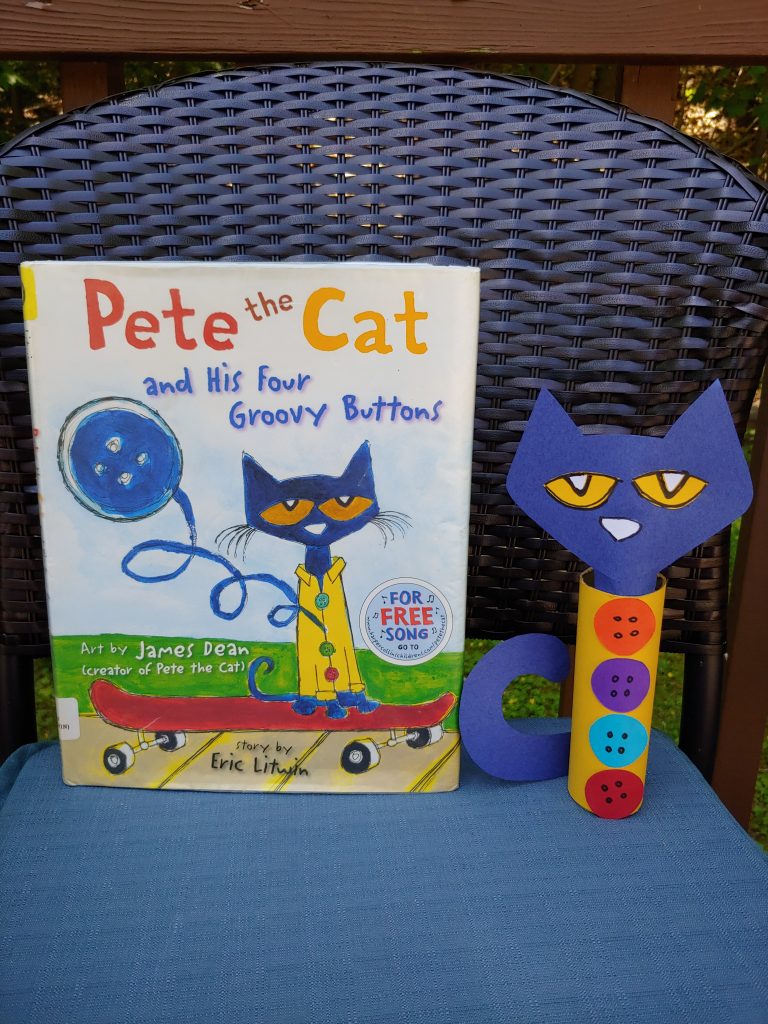 Story questions:
Describe Pete's favorite shirt. What color are the buttons?
How does the song go? You can download it and sing it together (optional ?)
What does Pete say after each button pops off?
Do you know what Groovy means?
Where is Pete when the last button pops off?
What did he see when he looked down at his open shirt?
What is Pete singing in the end?
Does he cry?
Pete the Cat Tube Craft
Materials:
5″ long piece of paper towel tube
Construction paper
Black marker
Scissors
Glue stick or white glue
Colored pencils or crayons
Template
Instructions:
Cut a 5″ x 6″ piece of yellow paper, and glue around tube. Use template to trace and cut out face, tail, eyes, nose, and buttons. If you have large buttons you can use those with stronger glue to attach. If you desire, eyes and buttons can be colored in with crayons or colored pencil if you don't have construction paper. Use black marker to outline shapes and add details. Glue head inside top of tube, and tail to the back, glue on rest of parts.