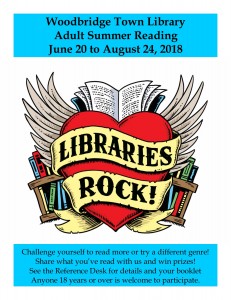 Who can participate? Adults ages 18 and older.
How do I register? Registration begins on Wednesday, June 20 and continues throughout the program. You must register in person at the Reference Desk to pick up your review cards. Keep this booklet as it serves as your game piece.
How do I participate? Stop in, check out books, and read them! For each book you read, you may fill out a book review card. Each book review turned in earns you a stamp on your booklet. (Open up this booklet to see the stamping area.)
Prizes will be awarded as follows:
sign up = summer reading bookmark
3 stamps = a piece of candy
7 stamps = a small prize
10 stamps = a book to keep
Return your stamped booklet to the Reference Desk at the end of the program (by August 29) to be entered in a drawing for a gift card! A gift card will also be given to the person who read the most books—so please feel free to keep reading and reviewing past 10 books!
What can I read? Any book or audiobook counts, in any genre, fiction or nonfiction. Children's Department books do not count!
How Do I Write a Book Review? Please fill out all
sections of the book review cards: Book Title, Author, Genre, and Review. Remember to fill out the back with your name and phone number, too.
What does genre mean? Genre is the type of book such as mystery, romance, historical fiction, Chick Lit, etc. You may also choose to include extra information here such as fiction, nonfiction, memoir, short story, audiobook, etc.
What are you looking for in a book review? For the book review, we are looking for just a few sentences on what the book was about, whether you liked it, and why you did or did not like it.
What will you do with the cards? The book reviews will then be placed in our "Summer Reads" binder which will be available at the Circulation Desk so patrons can see what books other participants have read. The reviews will remain anonymous in the binder as the names are on the back of the card and will not be visible.
Can you help me pick a book? I don't know what to read… That's a good problem to have! Ask a staff member for some suggestions. We're happy to help.